Products
Product description
Information
Wired Automation
Panels
Hotel interface
Dimmer
Relay
Detector
Motors
Audio/Video
Counters
Gateways
Other
Wireless automation
Panels
Controller
Sensors
Intercom
Gateways
A new era of smart switches with a look for every user.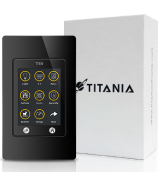 No matter how professionally you pursue smart technology trends, some solutions are just the right choice. TIS's Titan & Titania panel series are examples of those intelligent products that offer both beauty in design and quality in performance.
These switches, featuring touch interfaces with temperature, weather, and energy consumption indexes for the ultimate lights, climate, shades, moods, security, and music control, are now available in the market. This smart series comes in two standard junction box sizes: the Titania panels for the US and the Titan panels for the UK.
The TIS Titan & Titania series includes the following switches:
TITANIA & Titania TFT is a 3" touch panel with customizable LED icons designed for limitless control over lights, climate, moods, scenarios, curtains, and more.
TITANIA & Titan 4G is a 4-gang touch panel with control capabilities for lights, moods, curtains, and more. You can also add a personal touch to the interface's texts and icons. Remember, you can enjoy this new line of wall panels if you are a resident of Italy as well. If mounted horizontally, the Titania 4G switch fits the Italian standard electrical box.
TITANIA & Titan 3G features a 3-gang touch panel to control lights, moods, curtains, and more.
At last, we offer you the Nurse or Hotel Call Panel. This one is specially designed for monitored care; our Nurse Panel makes the patient-nurse interaction more convenient at all care accommodations and medical centers. Patients use this solution to call their respective nurses when they need help. Alternatively, if you own a hotel, simply use the MUR/DND-equipped panel to level up the éclat of your property. These two switches appear horizontally on the wall and sparkle beautifully among other devices in the room.
This package is very user friendly and intuitive. Whether you are in the mood for a few finger swipes on its interface or you want to use your phone to activate the Yoga mood for an evening session, it can all be done in seconds. All of this series' texts and icons can be easily set based on what you want them to be. Quite magical, is it not?
These flush-mounted panels come in various color and finish materials to suit your home's style. We care about your taste and offer you plastic, metal, glass, and an array of other personalized finishes with slim curves and graphics.
The Titan & Titania series knows no limits because we want you to experience the smart modern life with no limitations. To see how it feels like to live in an alive and automated building, you just have to install Titan or Titania.
Specifications
Diagram
Manual
Firmware
Product brochure
.67546289357193405834
.dadasdascdgashcdqwfdcq
xzvxzcbvzxcvbxcvbcv